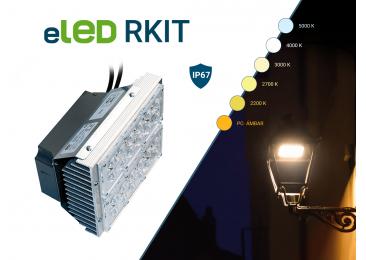 eLED RKIT
A versatile retrofit KIT that adapts to any classical lighting fixture with LED technology.
Contact with us
eLED RKIT is a complete unit comprising a high output 24 LED module and and eSMART constant current driver which is 100% programmable, enabling a high level of flexibility and variability to adapt to any classical lighting fixture application (Villa, Fernandina…), industrial lighting or other types of luminaires.
eLED RKIT is available in different colour temperatures (PC Amber, 2200K, 2700K, 3000K, 4000K and 5000K) and in both symmetrical and asymmetrical light distributions.
This 100% programmable driver, which integrates eSMART technology, allows a wide range of programmable options and numerous dimming modes: ON/OFF, DALI, 0-10V, 1-10V, ActiDIM (autonomous and dynamic regulation that adapts to night hours with up to 9 levels), ActiDIM Parking (combining autonomous regulation and presence detectors), MainsDIM (head-end regulation to vary the grid voltage), Line Switch (line switch regulation) and Parking (light regulation via presence detectors).
The eLED RKIT has CE and ENEC certifications and complies with the IDAE / CEI technical requirements for lighting fixtures with LED technology for outdoor lighting.